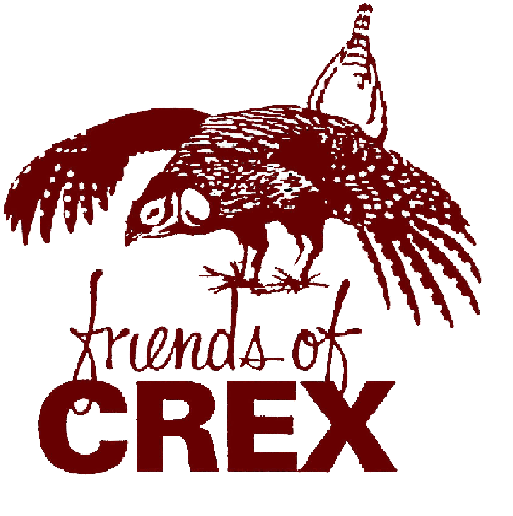 Crex Meadows
State Wildlife Area
FALL EVENTS
2021
No online registration available:
Crex Archery Club
Tuesdays
September 7, 14, 21, 28 and October 5, 12
6:00 pm-7:30 pm
Join local archery instructors to learn the basics of archery! All skill levels and ages are welcome. Registration Fee: $10. Equipment provided, but students are welcome to bring their own if they have it.
Grantsburg Library Program
Wednesdays
September 8, October 13, November 10, December 8
10:30 am-11:15 am
Join widlife educator, Lauren Finch, at the Grantsburg Public Library for wildlife stories, crafts, lessons, and more!
​
Bird Watching
Fridays
September 10, 24 and October 8, 22
8:00 am-10:00 am
As a group we will learn how to identify different birds, get hints for bird watching on Crex, and come together to discuss our sightings. Meet at the Visitor Center then carpool through the state wildlife areas. Adults only.
​
FOC Annual Membership Meeting
Sunday, September 19
1:00 pm-3:00 pm
Join us for the Friends of Crex Annual Membership Meeting for refreshments and great conversation at the NEW Mess Hall Facility, updates, awards, and a guest speaker! Pre-registration required (call 715-463-2739 or email Lauren.finch@wisconsin.gov to register)
(**Not a member yet? Come to the meeting and fill out your membership form!)
​
FOC $1,000 Club Event
Saturday, September 25
1:00 pm Start
Members of the $1,000 Club are invited to join us for an evening of fun! This will include a property tour with staff, dedications, a guest speaker, and a meal cooked out of the NEW Mess Hall Facility. Invite only.
​
WDNR Hunter Safety Education
Monday-Thursday
September 27-30
5:30 pm-8:30 pm
This class is required to purchase any hunting license in Wisconsin for anyone born on or after Jan. 1, 1973. Fee: $10. Pre-registration required via your GoWild account on the WI DNR website.
​
Annual Fall Festival & Open House
Saturday, October 9
Events begin at 7:00 am
Visit Crex Meadows in October for our Annual Fall Wildlife Festival & Open House! There will be presentations by staff, LIVE ANIMALS, exhibitors, activities for families, tours, hikes, and more! Some events may require pre-registration.
**Full schedule coming soon
​
Pumpkin Carving
Wednesday, October 27
5:00 pm– 7:00 pm
Get in the spooky spirit with a hands-on carving night. In preparation for Howl-O-Ween, volunteers plan to carve 100 pumpkins! Bring some tools with you! Pumpkins provided. All ages.
​
Howl-o-Ween
Friday, October 29
5:00 pm– 8:00 pm
A fun filled family evening! Take a hike behind the Visitor Center lit up with Jack-O'Lanterns, learn about wildlife through a variety of activities, and enjoy some seasonal treats! Wear a costume! Recommended to bring: flashlight. All ages welcome.
Pre-registration Online Required: