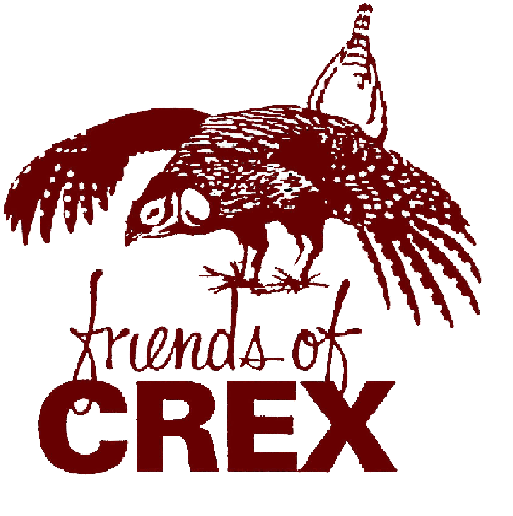 Crex Meadows
State Wildlife Area
If you love the outdoors, Glacial Lake Grantsburg wildlife areas have something for everyone to do!
Bird Watching: Crex Meadows is listed as one of the top 500 birding spots to visit in the United States! There are over 270 species that use the property, and many are seen consistently each year. Stop in at the Visitor Center to learn about recent sightings and seasonal updates.
Hunting and Trapping: Hunting and trapping is allowed on all three Glacial Lake Grantsburg wildlife areas, and many people come here specifically to hunt and trap. Interestingly, wildlife areas in the State of Wisconsin are funded by money made from the purchase of hunting licenses, and money from the purchase of firearms and ammunition.
Kayak and Canoe: If you're looking for a new experience on Crex, try kayaking or canoeing on one of our flowages! This puts you at a different vantage point for viewing wildlife, and is just a fun experience!
Biking: Another unique way to experience the properties is to take a bike ride. Biking is a great alternative to driving, because it is quieter and you are able to listen to wildlife as you ride. Don't forget your bug spray!
Search for Wildflowers: Not only is Glacial Lake Grantsburg a great places to search for wildlife, but it is also a great place to find wildflowers! This is always a unique experience, because there are different flowers coming into bloom all the time; you never know what you might find.
Snowshoeing: Winter can be long and cold in Northern Wisconsin, so why not have a fun hobby to help pass the time! Try snowshoeing on the trails at Crex Meadows!
Wildlife Viewing: Other than birds, there are a variety of species of mammal, reptile, amphibian, and insect that visitors can view throughout the properties.
Hiking: There are several hiking trails that are offered on Crex Meadows for visitors to enjoy. They vary in length, ranging from about 1 mile to 3.5 miles, but all are easy to walk. Stop in and get a trail map before you begin!
Camping: From September 1st to December 31st, visitors have the opportunity to camp at the rest area at Crex Meadows. It is a great option for those who hunt on the property, but it can also be a great experience for early-rising wildlife watchers and photographers.
Animal Tracking: Are you looking for a new way to experience wildlife? Well you're in luck! Crex, Fish Lake, and Amsterdam Sloughs are great places to look for animal tracks! Get off the beaten path and see what you can find!
Wildlife Photography: Are you in search of a new hobby? Try getting into wildlife photography! Wildlife areas are a great place to practice because there are so many viewing opportunities. The best part is getting to document what you saw outdoors!
Snowmobiling: When winter conditions are right, visitors have to option of snowmobiling through the properties! Make sure you find out where the trails are!