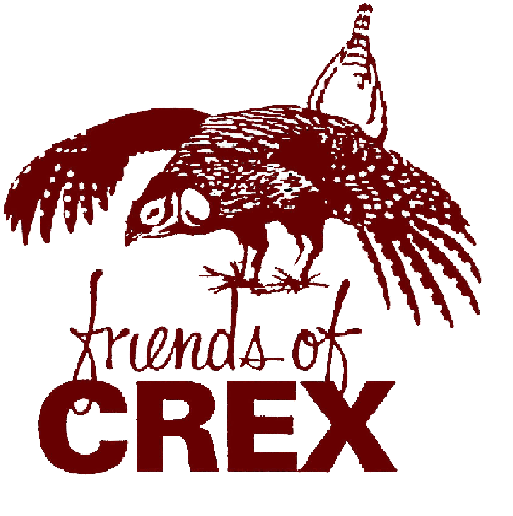 Crex Meadows
State Wildlife Area
The Friends of Crex Meadows
Mission: To support and assist the Wisconsin DNR with wildlife management and wildlife conservation education & outreach at Crex Meadows, Fish Lake, and Amsterdam Sloughs Wildlife Areas.
​
Vision: Wildlife conservation education and management that generates a land and wildlife ethic into perpetuity.
The Friends of Crex is a 501(c)(3) non-profit corporation established in 1984 for the purpose of assisting with and supporting wildlife education and wildlife management activities at Crex Meadows and the other Glacial Lake Grantsburg properties. We provide volunteer and financial assistance needed to expand the wildlife education program and assist with wildlife management activities at Crex. We are composed of individuals from many different backgrounds interested in increasing public understanding, appreciation, support, and enjoyment of wildlife. With more than a thousand active members, the Friends of Crex is one of the largest friends groups associated with the Wisconsin Department of Natural Resources.

Each year, Friends of Crex members provide hundreds of hours of volunteer assistance and thousands of dollars of financial support. Their financial support has allowed the Crex staff to purchase equipment, supplies, and displays, and fund a Program Assistant/Naturalist position at the Visitor Center.
Initial goals achieved
- Construction of the Crex Meadows Education and Visitor Center.
- Expansion of the wildlife education program.
- Hiring of a full-time Wildlife Conservation Educator.

Changing needs
Having accomplished our initial goals, we moved on to the next stage of our evolution.
We have two major goals for the immediate future:
1. To ensure that the Wildlife Education Center is adequately staffed and fully operational.
2. To offer donors the opportunity to fund wildlife management activities, including land acquisition, at Crex Meadows and the other GLG properties.
Friends of Crex Board of Directors 2022
​
President:
Vice President:
Treasurer:
Secretary:
Board Members:
Paul Stoll, Apple Valley, MN
Chip Steensland, Grantsburg, WI
Paul Kooiker, Grantsburg, WI (not on BOD)
Tim Spielman, Siren, WI
Jennifer Moore, Duluth, MN
Dave Evenson, Cumberland, WI
Dick Sandve, Minneapolis, MN
Annette Mosley, Grantsburg, WI
Jake Francis, Grantburg, WI
​